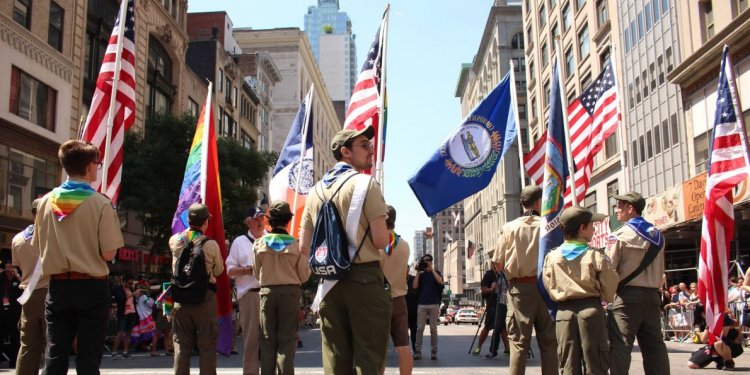 Boy Scout California Committee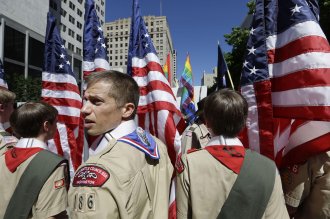 Boy Scouts from the Chief Seattle Council carry U.S. flags as they prepare… (Elaine Thompson / Associated…)
SAN FRANCISCO — California's judicial branch is considering a proposal to prohibit state judges from belonging to the Boy Scouts of America on the grounds that the group discriminates against gays.
An ethics advisory committee to the California Supreme Court is seeking public comment on the proposed ban at . The deadline for submitting comments is April 15.
The state high court decided to prohibit judges from belonging to groups that discriminate on the basis of sexual orientation in 1996, but made an exception for nonprofit youth organizations. The court's decision was made to accommodate judges who serve as leaders for their sons' troops.
Efforts to change the policy in 2003 failed, but the court advised judges to disclose their membership in cases where it might be relevant and to be prepared to step away if a litigant questioned the jurist's impartiality.
Of 47 states that ban judges from joining discriminatory groups, 22 states, including California, include a bar on groups that show bias on the basis of sexual orientation. California is the only one of these that makes exceptions for youth groups, the ethics committee said.
Eliminating the exception would "promote the integrity of the judiciary" and "enhance public confidence in the impartiality of the judiciary, " the committee, composed of judges and a lawyer for the chief justice, said in presenting its proposal Wednesday.
The Boy Scouts decided last year to permit for the first time the participation of openly gay boys younger than 18 but to continue prohibiting gay and lesbian adults from serving as leaders.
Following public comment, the California Supreme Court will decide whether to approve the prohibition, proposed to take effect in August.
Share this article
Related Posts