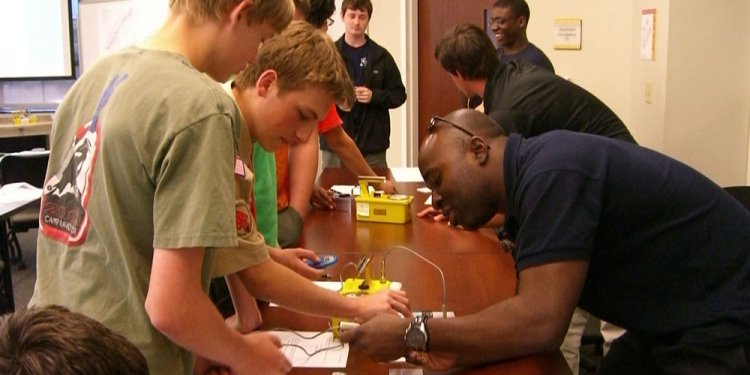 Boy Scout California Merit badges
The SCMM offers docent lead, guided tours that teach the history of medicine through the displays at the museum and stories told by the docent. These are designed for groups of visitors as an educational and entertaining experience, one that will make a memorable field trip for students from Elementary School, Junior High, High School, College, Medical School, Trade Schools, and other educational facilities. In addition, we can provide lecturers on medical history with advanced notice. Contact us at (909) 273-6000 for more information.
Boy Scouts of America: Medicine Merit Badge
Scout Leaders
The SCMM has conducted classes in the Medicine merit badge for Boy Scout groups. Please contact us if you are interested in this. We will be holding special Medicine Merit Badge class days for scouts during the year. Two merit badge sessions were held this year and over 80 boys have participated from troops all over Southern California. The class costs a nominal $20 per scout. There is a 10 scout minimum to hold a class. Contact us at (909) 273-6000 for more information.
Link to Medicine Merit Badge requirements. Boy Scouts Earning Medicine Merit Badge
Hospitals, Museums, Organizations, etc.
The SCMM can provide displays for special occasions, anniversaries, meetings, etc. These can be short term (one day+) or long term (months+.) We have had medical displays at several other museums including: The San Bernardino County Museum and the Ontario Museum, Claremont Library, and at several hospitals in Southern California. These exhibits were well attended and very popular. Contact us at (909) 273-6000 for more information.
Consulting to the Media and other Industries
The museum curators can provide services to help provide accurate medical, dental, pharmaceutical and nursing historical information useful in plays, television, movies, historical research and news articles. We can also help provide some historical items or props for use during production. We have already consulted with and have been featured on two episodes of A&E Network show "Storage Wars" and on one episode of "The Doctors". Recently we have consulted on the motion picture, "A Million Ways to Die in the West". Please contact us for details and pricing information. Contact us at (909) 273-6000 for more information.
Identification Service
We occasionally are asked to identify and give an opinion about medical items that people possess. We can help in many simple cases, as long as the items are described well and are photographed clearly. The response will be short (a few sentences) and, if possible, an estimate of the possible monetary value will be given. These answers are to the best of our knowledge and no definite conclusions can be drawn. The museum nor its members are certified as appraisers and cannot be held responsible for errors. We require a donation of $10 for the uncomplicated answers. The museum will contact the person or organization if a more extensive investigation or report is needed or required and additional fees may be necessary. Contact person Dr Hans Davidson (bertjd@gte.net)
Volunteer Opportunities
We need volunteers! If you have an interest in cataloging artifacts, giving tours, entering data using our museum software, or have a special skill you'd like to share, then we are the place for you! The museum is always looking for dedicated volunteers who are able to donate their time and energy. Contact us at (909) 273-6000 for information on volunteering.
Share this article
Related Posts