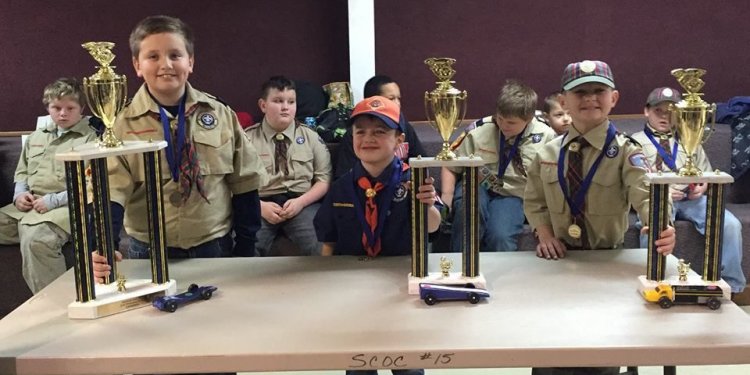 Boy Scout California Pinewood Derby rules
Pinewood Derby resources include the Official Cub Scout Rules, Tips, Drivers Licenses, Certificates,
planning ideas, and links to dozens of other sites who offer supplies and tips.
Cross-references are given for related Cub Scout Wolf, Bear, and Webelos requirements.
The Pinewood Derby® is a popular Cub Scout activity. Pinewood derby cars are small wooden models that boys make with help from their families and then race in competition. The cars are powered by gravity and run down a regulation track. The pinewood derby is an annual event in most packs. It can be run indoors or outdoors. Every boy can design and build his own "grand prix" car to enter in the race. Pinewood Derby® is a registered trademark of the Boy Scouts of America.
Kits and supplies for the pinewood derby are available from the national Supply Division. See their Web site at Making Pinewood Derby cars can help meet requirements for Cubs at each level.
Planning Your Derby
All derbies and regattas have some things in common. They all require planning and preparation, they all involve competition and prizes, and they provide fun for boys and their families. Always remember that in Cub Scouting, it's more important to "Do Your Best" than to come in first.
Because the derby is a major event, it should be planned and prepared by its own program committee, which will need to:
Follow the guidelines for planning special pack activities found in chapter 6 of the Cub Scout Leader Book.
Plan and carry out appropriate opening, award, and closing ceremonies.
Handle all aspects of awards, not only prizes for the "winners, " but recognition for every boy for participating in the derby.
Plan for crowd control.
Devise a fair method of judging.
Plan and provide appropriate decorations with lots of boy participation.
You can find more information about derbies in the Cub Scout Grand Prix Pinewood Derby Guidebook.
Share this article
Related Posts