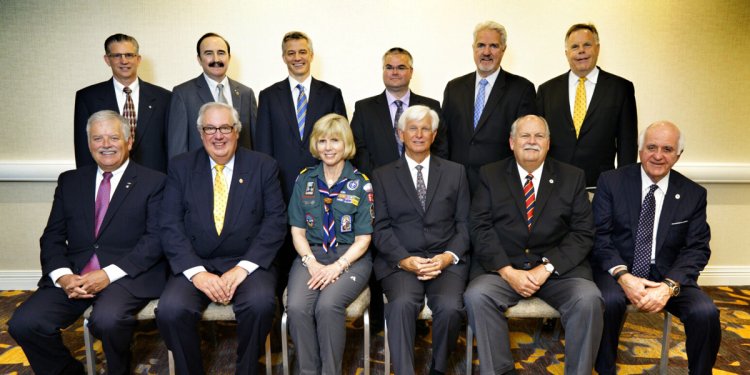 Boy Scout California special Awards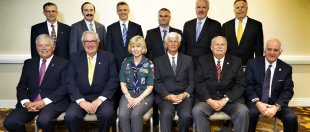 The Archbishop of New York, the former CEO of Kampgrounds of America and the driving force behind the Composite Materials merit badge are three of the dedicated Scouters who received the Silver Buffalo Award at a special ceremony tonight.
The 2016 Silver Buffalo Award class includes 13 Scouting volunteers whose contributions to our movement on a national level are deserving of the highest recognition the Boy Scouts of America can give to adults.
The list includes massive names in Scouting (Robert Baden-Powell, "Green Bar Bill" Hillcourt), Hollywood (Walt Disney, Jimmy Stewart), sports (Yogi Berra, Archie Manning) and politics (Gerald Ford, Lyndon B. Johnson).
And it also includes Scouters whose names you don't know but whose impact you can see and feel.
The men and women who wear the Silver Buffalo pendant suspended from a red-and-white ribbon have diverse backgrounds but are united by their commitment to the Scouting movement.
Please help me celebrate these 13 newest members of the Silver Buffalo family.
Timothy A. Acree
Murfreesboro, Tenn.
Master Trainer – Servant Leader – Eagle Scout
The unsung hero of Scouting is the commissioner — that experienced volunteer who provides ongoing support to unit leaders. The unsung hero of the commissioner service is Tim Acree.
Over the past eight years, Acree has led a comprehensive analysis and restructuring of commissioner training. The result has been a simplified and more effective curriculum for training in eight different positions, as well as revised commissioner conference curricula for Philmont Training Center and Florida Sea Base.
Acree has done similar work with the commissioner college program. He recruited and led a team of 35 volunteers that in a year produced revisions of 68 college courses and created a continuing-education component. Scouting University — of which he is a regent — has cited his teaching methodology as a best practice worthy of emulation.
In addition to his work with the National Commissioner Task Force and Scouting University, Acree is a vice chairman of the National Eagle Scout Association, a member of the Alumni Committee, and a board member of the Middle Tennessee Council.
An Eagle Scout, Acree has received the Silver Beaver, Alumni, Philmont Training Center Master's Track, and Distinguished Commissioner awards. He is a James E. West Fellow.
Acree is a lead cloud engineer for Hewlett Packard. He holds bachelor degrees in engineering and mathematics from Geneva College.
Acree and his wife, Lonnie, have two sons, both Eagle Scouts.
Ronald Bell
Miami
Youth Advocate – Distinguished Eagle Scout – Lifelong Arrowman
At every high-profile Order of the Arrow event since 1997 — and there have been many — Ron Bell has been front and center. He oversaw the American Indian Village at the last five national jamborees, led American Indian activities at the last eight National Order of the Arrow Conferences, ran one of five work sites during the 2008 ArrowCorps5 program, and chaired ArrowTour, which took the OA's centennial celebration on the road to more than 100 camps and council service centers across the country.
But Bell's influence has been felt in less visible ways as well. In 2012, he created the OA's American Indian Advisory Group, which ensures that the Order depicts native cultures appropriately, and he has led two National Indian Seminars to teach American Indian history, crafts, and tradition.
At the same time, Bell has served the South Florida Council for more than four decades as a Scoutmaster, OA lodge advisor, executive board member, and council vice president. The council's 2004 Eagle Scout class was named in his honor.
A James E. West Fellow, Bell is a Distinguished Eagle Scout and Vigil Honor member of the Order of the Arrow. He has received the Silver Beaver and Silver Antelope awards, the OA's Distinguished Service and Founder's awards, and the William T. Hornaday Gold Badge.
Bell is the retired operations coordinator for Miami-Dade County Parks. During his tenure, he worked with groups like the National Football League and the Inner-City Games Foundation to better serve low-income kids. He holds an associate degree from Miami Dade College.
Share this article
Related Posts