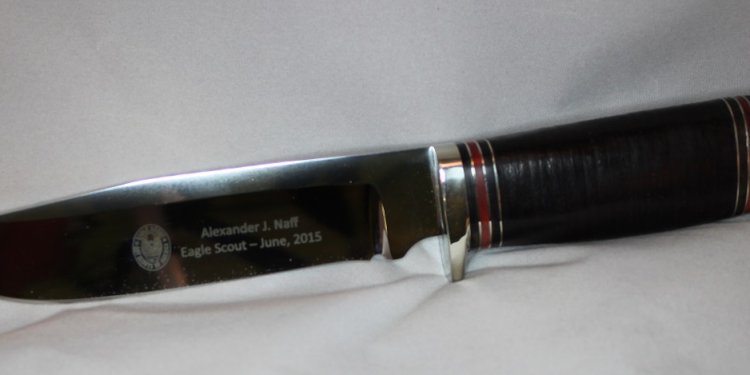 Old Boy Scout California knives
Rising out of the snow-dusted fields like a gargantuan block of Post-it notes, the Buck Knives factory in the Idaho panhandle looks for all the world like a Northwest native. From the basalt columns adorning the driveway to the moose trophy gazing implacably down on the lobby and the spectacular chandelier built of antlers, the building feels like it belongs here, where the unyielding prairie of the Columbia Plateau confronts the chill hauteur of the Selkirk Mountains.
Appearances can be deceiving, however. Depending on how you look at it, Buck Knives is a transplant, a refugee, or a pilgrim from southern California. The story of how Buck moved its knife manufacturing company from the dusty, sun-drenched hills of El Cajon to this rugged patch of Idaho turf is a case study in business relocation. If it's true that geography is destiny, then Buck's voyage demonstrates that you can shape your destiny if you're willing to redraw your geography.
A California institution
In 1999, a few months before his 39th birthday, CJ Buck received an unusual heirloom: the family business. For a guy who had spent his entire professional life working for the company, it should have been a magical moment. Buck Knives enjoyed loyal customers, great name recognition, and a tradition of quality forged by his great-grandfather, a blacksmith apprentice named Hoyt Buck who got tired of sharpening grub hoes and in 1902 decided to grind his own blades instead. After years of experimentation, Hoyt came up with a secret tempering technique that produced knives that were so sharp, and so hard, they could whack a steel bolt in two. He co-founded the company with his son, Al, in 1947. Buck's Folding Hunter, introduced in 1964, quickly became the top-selling outdoor knife in America and earned a permanent spot on the Christmas lists of Boy Scouts around the world.
From its origin in a wooden lean-to, the business had grown into a California institution with $33 million in annual sales and 260 employees cranking out more than a million knives a year. But along with the traditions, CJ inherited plenty of headaches. Margins had been sliced to the bone by low-cost Asian competitors, which left the company chronically short of cash. Energy costs, a key factor in tempering blades, were creeping up. The company's work force was experienced, but it also was expensive. "We were losing money, " CJ says. "And it looked like there was no end in sight."
One of CJ's first moves after taking the reins was to revamp the company's executive staff. Working closely with his father, Chuck, Buck's chairman of the board, the new team reorganized its marketing strategy, crafting distinct messages for various sorts of customers, such as climbers, hunters, police officers, and military personnel. It streamlined the manufacturing process at Buck's sprawling plant in El Cajon, a suburb of San Diego, and began to make some low-end knives in Taiwan.
Share this article
Related Posts