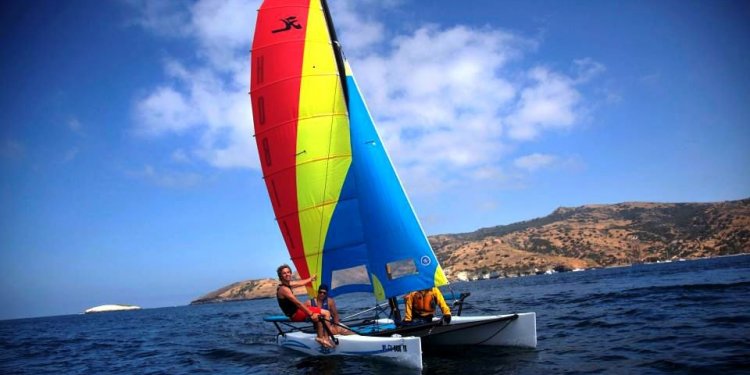 Top Boy Scout California summer Camps
Home | Add a Site | Modify a Site | What's New | What's Cool | Top Rated | Random Link | Search |

Links:

AR - Booneville - Rogers Scout Reservation Cached
Located just south of Booneville, Arkansas, Rogers Scout Reservation is approximately 45 miles from the Fort Smith area. This 2800 acre facility provides summer camping for Cub Scouts and Boy Scouts. The programs include Junior Leader Training, Webelos Camp, Fun with Son(s). Facilities include a 250 person dining hall, training lodge, trading post, crafts pavilion, hot showers and swimming and boating areas on the 115 acre Lake Keenan. This camp also provides short term camping for Boy Scouts and Webelos, family camping opportunities and is used for a variety of district and council events. Most importantly it is being developed as a Cub World.

AR - Damascus - Blass Scout Reservation Cached
A 2800 acre scout camp operated by Quapaw Area Council in central Arkansas. Blass Scout Reservation has the following: 2 Swimming Pools; C.O.P.E. Course; Archery, Rifle, BB and Shotgun ranges; training lodge and full dining hall.

AR - Harrison - Camp Orr Cached
This adventure base located south of Harrison, Arkansas, is the only Boy Scout Camp situated within a National Park. Nearly 600 acres of the scenic Buffalo National River Wilderness Area are available for long-term summer camping for Boy Scouts of all ages and abilities. Activity opportunities include backpacking, canoeing, rappelling, rock climbing, and others. Facilities include 350 person dining hall, trading post, three cabins, platform tent campsites and coeducational facilities. This camp also provides short term camping for Boy Scouts and Webelos and is used for various district and council events.

AR - Hatfield - Camp Pioneer Cached
Camp Pioneer is located in the beautiful foothills of the Ouachita Mountains. Mountain Fork River and Two Mile Creek converge at the camp, adding to its scenic beauty. The camp's hills are covered by pines and a large variety of hardwood trees. Located near Texarkana, AR (or TX if you perfer).

Arkansas - All Boy Scout Camps Cached
Currently there are 17 Scout Camp links listed for Arkansas. This link is on the SCOUTER.com web site, the largest repository for Scouting links on the web

AZ - Payson - Unofficial Camp Geronimo Page Cached
Nestled under the magnificent Mogollon Rim on nearly 200 acres of forest and meadows, Camp Geronimo is surrounded by over 5, 000 acres of undisturbed ponderosa forest in the Webber Creek watershed. Trails lead from camp taking scouts to the top of the Rim, where they can stand on the very edge of the Colorado plateau and view hundreds of square miles of the Tonto National forest. Camp Geronimo has 29 fully developed campsites complete with tents, a swimming pool, small lake, craft center, archery range, rifle range, black powder range, climbing tower, and a stable of horses. Scouts will also enjoy nature programs, hiking and much more.

CA - Boulder Creek - Boulder Creek Scout Reservation Cached
Boulder Creek Scout Reservation is located 1 1/2 miles from the town of Boulder Creek, California This camp has a full time resident ranger who can assist you with all your needs. The camp boasts of a quiet and serene camping atmosphere, a shower and restroom facility that meets ADA standards, archery and rifle range, family camp with tents and tent platforms, kitchen, swimming pool, picnic tables, historic hiking and nature trails, camping area, and a pristine meadow campground.

CA - Huntington Lake - Camp Oljato Cached
Camp Oljato is located on Huntington Lake in Lakeshore, CA. Oljato is accessible only by pontoon boat which run on a regular schedule during our Scout camping season. Camp Oijato has complete aquatics, nature, handicrafts, and shooting sports areas which are complemented by our highly rated dining hall and food service team.

CA - Lakeshore - Camp Kern Cached
Scouts have the opportunity to expand their outdoor knowledge, test their capabilities, and enjoy the fellowship that abounds with each week's group of campers. The Camp Kern program provides the opportunity for Scouts to work on over 40 outdoor-related merit badges. Each Scout should have time scheduled for both personal achievement and fun. Parents are cautioned not to place an over-emphasis on advancement. Though many Scouts earn from 1 to 3 merit badges during their week at camp, first year campers may spend most of their time focusing on skills that lead toward advancement to First Class rank. Remember that camp is a place where your son will learn many valuable lessons, such as fair play, teamwork, leadership, budgeting his money, getting along with others, experiencing new outdoor challenges, and making new friends.

CA - Santa Cruz - Cutter Scout Reservation Cached
Cutter Scout Reservation is a full-service camping facility located in the coastal mountains of California just above Santa Cruz and about 45 minutes...
Share this article
Related Posts