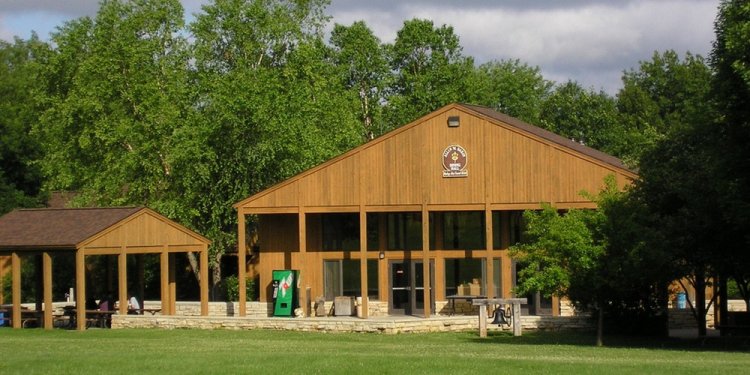 Boy Scout California Day Camp
Members of a Sacramento Boy Scout troop caught in a flash flood while hiking in New Mexico over the weekend have resumed their trek in memory of a fellow Scout who died when swept away by the wall of water.
Thirteen-year-old Alden Brock was among 11 Scouts, age 13 to 17, and leaders from Sacramento's Troop 380 who awoke about 4:30 a.m. Saturday to the roar of water in North Ponil Canyon, 15 miles northeast of the main Philmont Scout Ranch training center near Cimarron, in northeast New Mexico. Four were carried away by the floodwater and three of them survived. Alden's body was found about 11 a.m., about a mile from where the group had camped.
David Ishikawa, scoutmaster of Troop 380, said members of the backpacking crew were returned to the base camp, where they received medical checkups and met with chaplains. They were given the choice of leaving or resuming their 12-day trek. They consulted with Alden's parents, Cindy and Roger Brock, who encouraged them to continue, saying that's what their son would have wanted, Ishikawa said.
"They decided they wanted to do this for Alden, " Ishikawa said of the troop members, who are scheduled to complete the trek Sunday.
He noted that another 11 members of Troop 380 are with a separate crew that also is hiking across the ranch, but was not at the location of Saturday's flash flood. They also are continuing as a tribute to Alden.
Ishikawa described Alden as a "very happy young man, very friendly. He had a lot of energy."
Alden had just completed eighth grade at Albert Einstein Middle School and would have been a high school freshman this fall. He loved soccer and played with the Rosemont Soccer Club.
Alden had been a member of Troop 380 for two years and had participated in monthly training hikes in preparation for the high-adventure experience at Philmont Ranch. The hikes range from 50 to 100 miles and vary in difficulty, Ishikawa said. Alden was participating in a hike of a little more than 70 miles.
They decided they wanted to do this for Alden.
David Ishikawa, scoutmaster, Troop 380
Ishikawa said 214-square-mile Philmont Ranch is one of four high-adventure centers in the United States sponsored by the Boy Scouts of America. Ishikawa said he has hiked the ranch several times in years past and described it as a marvelous experience. Although Ishikawa was not able to participate this year, he said the adult troop leaders who accompanied Alden's crew also had made the trek before.
Ishikawa said he had spoken to the Scouts who experienced Saturday's flash flood. They had camped about 20 feet above a creek, where they typically would have been safe even in the rain. One youth told him they were awakened by a rumbling that sounded like freight train – a sound that they knew typically accompanies a flash flood – and suddenly they were deep in water. They described a wall of water 25 to 30 feet high and about 100 yards wide.
One of the boys helped several others get out, but four people, including Alden and the Philmont Ranch ranger serving as guide, were swept away from the campsite.
Share this article
Related Posts