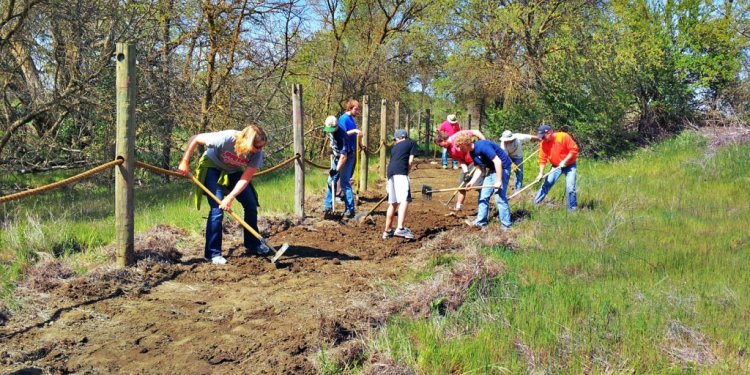 Boy Scouts California volunteer
Without the assistance of dedicated volunteers, the Park's 25-mile trail system could not be maintained. These group work together to benefit the Park. For example, RTAG developed and mapped the trail markers. The trail project was funded and sponsored by the Cordelia Rotary Club. RTAG continues to work alongside the Rotary Club and Boy Scout Troop 864 to assemble and install the new trail markers and sign kiosks. The City of Fairfield has multiple volunteer opportunities whether you are a high school student looking for service hours, an individual, family or a bicycle club looking for a way to give back to the community and build lasting friendships!
Trail Crew
The Rockville Trail Crew volunteer work days are scheduled for the third Saturday of every month from 9 a.m. to 12:00 p.m. Trail Crew volunteers provide technical assistance with trail maintenance and construction activities on the trails. Trail Crew volunteer duties consist of clearing rocks, trees, brush and other debris from proposed trail routes; build/repair walk ways, bridges or other structures; grade/fill existing trail paths to ensure user safety; and attend all required meetings and training sessions. Volunteers should bring water, gloves and a tool if available. Volunteers should wear layered clothing and sturdy shoes. A snack and beverage provided for volunteers.
Park Ambassadors
Park Ambassador volunteers help to ensure the continued health and natural biodiversity of the Park. This group provides technical and professional assistance associated with park operations, park safety, interpretation and public contact. A volunteer's presence encourages the public to be more aware of maintaining the natural beauty of the park as well as having a safe, enjoyable visit.
RATS Cycling Club (Rockville Alternate Transportation Society) is a Park Ambassador group. It was nominated and awarded the City of Fairfield Volunteer Group of the Year award in 2003 from the California Parks and Recreation Society. The RATS Cycling Club continues to provide valuable volunteer hours to the City and Park. Rockville Hills Park has been adopted by The RATS Cycling Club.
Rockville Trail Advisory Group (RTAG)
The Rockville Trail Advisory Group (RTAG) is a volunteer group established to assist the Park Ranger with trail related issues at the Park. RTAG promotes community involvement in trail related matters; assists in planning and organizing volunteer training opportunities; promotes an understanding of safe trail practices and sustainable trail use; solicits cooperation from other public and private organizations related to trail activities to the fullest extent possible.
Other volunteer opportunities are available!
If you are interested in a volunteering contact the Park Rangers at 707.428.7614 or contact Karen Rees at Volunteer Services. Please note that all volunteers are subject to a background check.
Share this article
Related Posts