Boy Scouts California Camps Michigan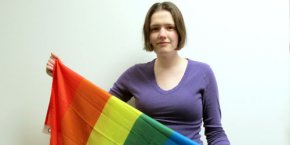 By Dawn Wolfe
While the Boy Scouts of America's National Executive Board delays deciding whether or not to partially rescind the ban on gay and lesbian scouts and volunteers, the organization says it does not discriminate against gay and lesbian employees - at least, not in the twenty-one states where doing so is illegal.
That news comes as no comfort to one young lesbian Michigander who was summarily fired in 2012 from a scouting summer camp in the state.
If Lauren Jasenak had lived in California, (or any other of those other twenty-one states that ban anti-LGBT employment discrimination) she could have continued to work in the camp's kitchen. But because she's a lesbian living in Michigan, the BSA was free to order her to leave Metamora's camp D-bar-A on July 18 - the day after the national organization affirmed its discriminatory policy.
Of course, no matter where Jasenak lived, she could still be barred from serving the Scouts as a volunteer under the anti-gay ban, which was affirmed by the U.S. Supreme Court in 2000.
After successfully completing summer employment at the Gregory, Michigan-based Camp Munhacke in 2010 and 2011, Jasenak was looking forward to spending another fun, productive summer as a kitchen and general-help worker at D-bar-A in 2012.
Unfortunately for her summer ambitions, Jasenak said she confided her orientation to Camp Commissioner Ann Spayts "a few nights before" she was fired.
According to Jasenak, the day - a Wednesday - started out, "...pretty normally. It was the first day we were supposed to start with the Cub Scout program. I was supposed to give the kitchen/dining hall spiel - you basically tell the kids how to line up, where their trays go, and how to get their food, (but instead) I was told to go to the camp office." When she arrived at the office, Jasenak said, she was confronted by Spayts and Camp Director Bill Licht.
"They gave me a document to sign (stating that she was being terminated as a result of her sexual minority status) that had Ann's and his (Licht's) signature already on it. I wasn't going to sign it at first, but Bill wouldn't take 'No' for an answer, " Jasenak continued.
Jasenak was shocked to learn her minority status could be used as a reason to fire her from the job she loved. "Up until this point in Scouting I'd heard about it (the ban on gays and lesbians), there was a court case ... but the general attitude I'd heard was that wasn't a thing the Boy Scouts cared about anymore, " she said.
After being forced to sign the paper terminating her employment, the then eighteen year-old, "...began crying hysterically. I was fired, I had no car to go home in and my rabbit, Thumper, was there with me." Jasenak added that while Licht and Spayt said that she could stay for dinner, but was required to leave immediately afterward - and they refused to give her a ride for the roughly two-hour trip home.
Despite the tense situation, Jasenak said she repeatedly requested a copy of any employment policies banning gay or lesbian people from working at the camp, and "When I said I wanted the policy, Ann said 'That's understandable - if you stole something you'd probably want a policy about that, too.'"
Eventually, Jasenak said, she found a friend who was able to leave work early to give her a ride home from the camp - and, she said, Licht stood guard over her as she packed in her cabin. "I wore my 'Some Chicks Marry Chicks' shirt and played Lola the whole time, " she added.
Camp Director Licht said he was not at liberty to talk about Jasenak's termination and referred questions to the BSA's national office.
"What happened to Lauren is a terrible scar on the face of the Boy Scouts, and yet another example of why the national board has already waited far too long to make this change, " said Equality Michigan Director of Victim Services Yvonne Siferd. The organization worked with Jasenak to file a complaint with the Equal Employment Opportunity Commission (EEOC) in August 2012.
"We will continue to work with Lauren as she awaits word from the EEOC and handles any response from the Boy Scouts. Any other LGBTQ victims of discrimination at the hands of the Boy Scouts should feel empowered to contact us, so that we may help them navigate a system that often seems weighted against them."
Asked about the relationship between the organization's ban on gay and lesbian volunteers and its employment policies, Deron Smith, director, BSA Public Relations replied via email that, "The Boy Scouts of America will always follow applicable laws. All local councils of Boy Scouts of America operate in full compliance with all applicable laws, codes, ordinances, statutes, and regulations respecting nondiscrimination. The Boy Scouts of America does not unlawfully discriminate with respect to employment, volunteer or member participation, or provision of services on the basis of race, color, creed, religion, national origin, ancestry, age, gender, sexual orientation, gender identity, [Ed. Ital] disability or handicapped status, family or marital status, veteran status, or political affiliation."
Share this article
Related Posts