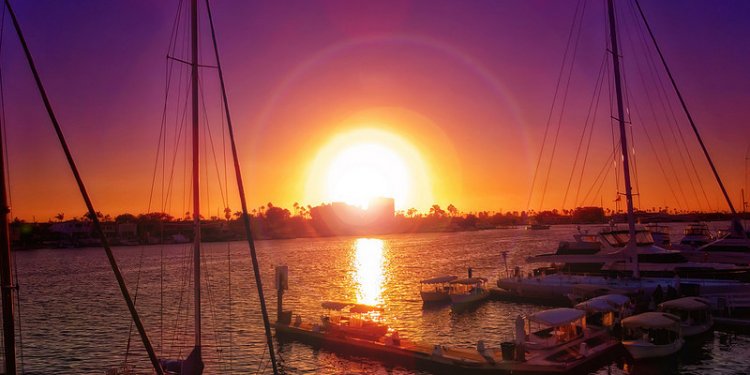 Easy Boy Scouts California merit badges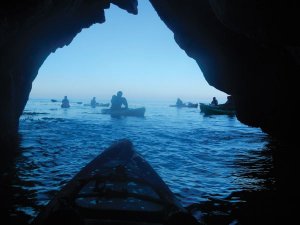 AT HIGH TIDE, Smuggler's Cove doesn't look like much—just a darkened hole at the base of a cliff on Catalina Island. But at low tide, it turns into an ominous maw. Legend has it that a sailor's ghost guards a priceless treasure stashed in this cave by a band of ruthless California pirates.
In the waning light of an October afternoon, the members of Venturing Crew 420 hesitated at the entrance to Smuggler's Cove in a pod of Skittles-colored kayaks. They could barely make out its rear wall, obscured by darkness, and its mouth was just big enough for a single boat. One by one, each paddled to its entrance, ducked, and glided into the cavern on the momentum of the swells. Then came Jake Stephens' turn.
"Don't go into the vortex. It'll kill you!" Jack Daum said mischievously, as Jake, the youngest of the bunch at 18, dipped his paddle into the water.
"If you see a bright light, swim toward it!" J.R. Brolliar said, egging him on. Without hesitation, Jake tilted his head to glide into the cave's craggy mouth and disappeared into the black. In another few moments, he slid back out again, a grin stretched beneath his crooked baseball cap.
Scouts have paddled into Smuggler's Cove, and along Catalina's rugged shores, for decades. They come to Camp Emerald Bay from as far as Korea, Japan, Denmark, and England to see this wild landscape and learn to kayak its waters. Some have never seen the ocean before but leave with an indelible sense of its magnetism. Most of the members of Crew 420, however, had been converted to the sport of sea kayaking years ago. The unusual crew consists of former camp staffers who continue to get together long after their summer tenure ended. On this particular weekend in October, they traveled from homes scattered along the California coast to meet old friends and spend a weekend paddling.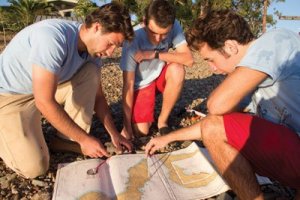 Every Catalina Island trip starts with a boat ride. On Friday afternoon, the Venturers boarded the last ferry in Los Angeles, and a palpable sense of excitement suffused the air. Soon the city disappeared in a haze, and the Santa Monica Mountains turned into ragged lines against the pale blue sky. A group of 6-year-olds on a weekend visit shrieked with delight as hundreds of bottlenose dolphins swarmed the boat, jumping in twos and threes in what seemed like a magnificent orchestrated show. The members of Crew 420 simply smiled, eyes bright. Though the ride only takes an hour, Catalina feels as if it's in the middle of the Pacific.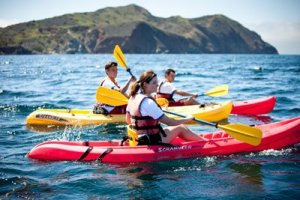 "The great thing about us getting together like this is we pick up right where we left off, " said Nick Leimbach, a lanky teenager equipped with his mobile phone and plenty of enthusiasm.
"I'm excited, " said his friend Chris "Suzu" Suzuki. "I came all the way from San Francisco for this."
THE CREW'S PLAN was to take off first thing the next morning, paddle about five miles to the western end of the island, and peek around to the windward side. Come evening, they'd camp on a deserted beach, then paddle back to Emerald Bay on Sunday morning.
Though it was a seasoned crew, any kayaking trip has variables—and Catalina Island, subject to the tempestuous moods of the ocean, is no exception. Within hours, the swells can grow to more than seven feet tall, high enough for kayakers to lose sight of one another as they dip into troughs; wind and rain can steamroll across a clear sky within minutes. While Camp Emerald Bay is situated on the sheltered eastern side of the 25-mile island, the western side, the crew's destination, is much wilder.
"Here we're buffeted by the island, " said Van Whiting, 26, the sturdy, tanned advisor for Crew 420, over breakfast at Camp Emerald Bay on Saturday morning. "On the other side, there's nothing between you and Japan." That morning, however, the sky was auspiciously clear and the water still as satin.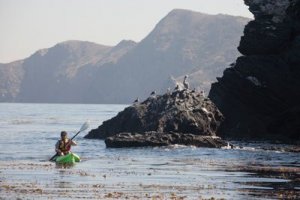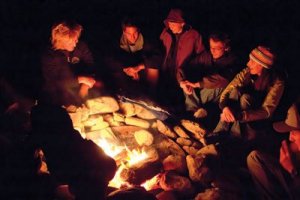 Share this article
Related Posts