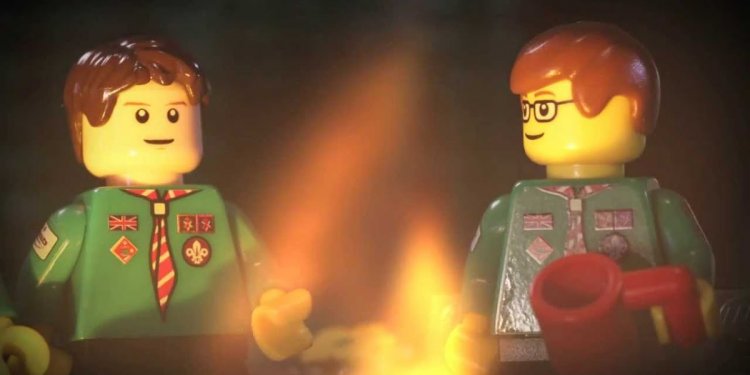 Boy Scouts California motto and slogan
The Boy Scouts of America was incorporated on February 8, 1910. Scout troops were organized in several Nebraska communities the following year. The Lincoln Council, predecessor of today's Cornhusker Council of the BSA, was chartered in 1912. For nearly a century scouting has enriched Nebraska life by providing thousands of boys with the incentive and the means to strengthen citizenship, learn leadership, and build character. Today the journey continues.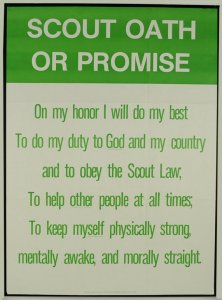 Since the Boy Scouts of America was founded, the scout oath, scout law, scout motto, and scout slogan have been every scout's guide to thought and action.
Source: 11546-53, 54, Troop 68, RLDS Church, Lincoln, courtesy of Shawn Bachman, Lincoln
This pennant expresses the scout slogan.
Source: 11188-7, Ted E. Barger, courtesy of Ann Barger Hein, Palos Verdes Estates, California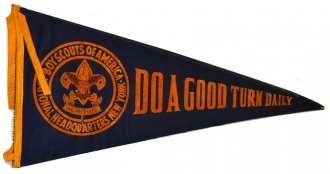 The scout badge, represented here on the flag of Lincoln Troop 68, expresses the scout motto, "Be Prepared." The badge, in the shape of a fleur-de-lis (the French name for an Iris flower), features two stars symbolizing scouting's ideals of truth and knowledge. The federal eagle and shield, an emblem of the United States, represents freedom and a scout's readiness to defend it. The knot below the scroll is a reminder of the slogan, "Do a Good Turn Daily."
Share this article
Related Posts